Solugen plans to scale a range of innovative, plant-based specialty chemicals and bio-based building block molecules in a new manufacturing facility.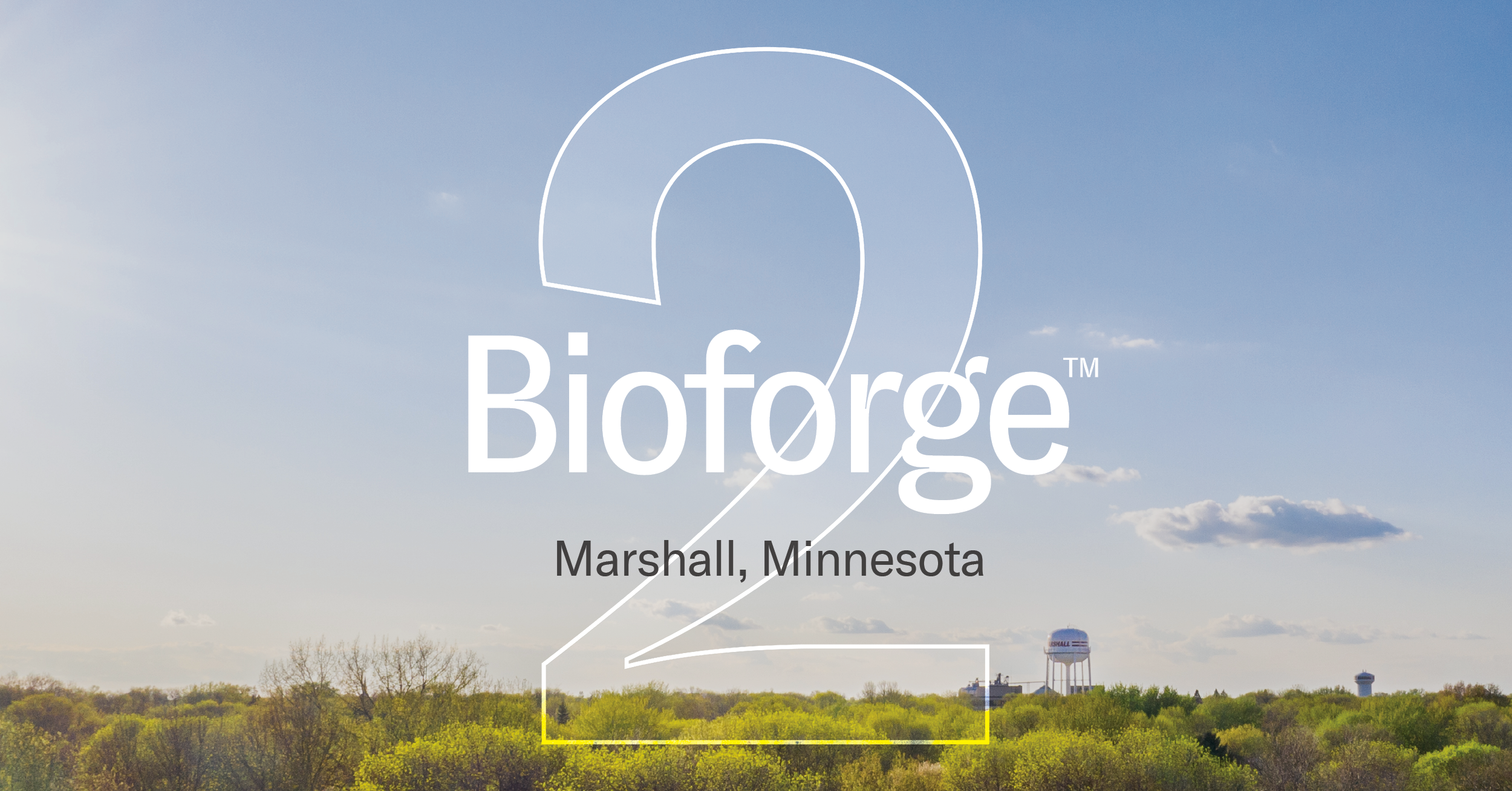 Solugen will build a new 500,000 square foot biomanufacturing facility in Marshall as part of a strategic partnership with ADM, a global leader in sustainable solutions. The new facility will be located adjacent to ADM's existing corn complex and utilize dextrose purchased from ADM to scale Solugen's current line of carbon negative organic acids and develop new molecules to replace existing fossil fuel-based materials.
Construction is expected to begin in Q4 2023 with completion of phase 1 by 2025. Phase 1 is expected to create at least 40 permanent jobs and another 100 temporary construction jobs during commissioning.
"The strategic partnership with ADM will allow Solugen to bring our chemienzymatic process to a
commercial scale and meet existing customer demand for our high-performance, cost-competitive, sustainable products."

Gaurab Chakrabarti, Co-Founder and CEO of Solugen.
For more information, read our full announcement here: [link to press release on website]
We decarbonize the physical world so that all living things have access to a sustainable future.
At Solugen, we believe that planet-scale change starts with the chemistry we use every day—which is why we've built the world's first carbon-negative molecule factory. The Bioforge™ is not a typical chemical plant—it is an entirely new manufacturing platform that uses a unique process to convert plant-derived substances into essential materials that have historically been made from fossil fuels—all without emissions or waste.
We are bringing high performance, cost competitive, sustainable solutions to the world.
Solugen's bio-based solutions are used in a range of markets including Energy, Construction, Agriculture, Water Treatment, Home Care, and Cleaning. Research efforts are currently underway for the development of additional applications for markets like Personal Care, and Food & Beverage. Over the next decade, we plan to expand our pipeline of molecules to include commonly used chemistries that underpin a significant portion of modern life.
For more information about Solugen, click the link below.
As we scale, so does our impact.
We prioritize our environment, our people, and our communities.
Community engagement is core to our success and impact. Just as we are committed to our Southwest Houston, which is where our Houston Bioforge™ and lead research and development center is located, we are committed to our new home in Marshall.
We have partnered with local educational institutions, community-based organizations, and economic development groups to ensure that our new community shares in our success.
Community Partnerships
City of Marshall
Marshall DEI Commission
Minnesota Department of Employment and Economic Development (DEED)
Minnesota Department of Agriculture
Marshall Area Chamber of Commerce
Southwest Minnesota Private Industry Council
Southwest Initiative Foundation
Marshall Community Foundation
Southwest Minnesota State University (SMSU)
Agricultural Utilization Research Institute (AURI)
Minnesota West Community & Technical College
Marshall Senior High School
LYFT Career Pathways
GreenSeam
FREQUENTLY ASKED QUESTIONS